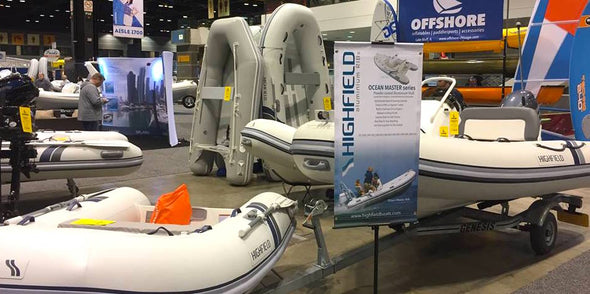 The 2018 Season kicks off January 10th thru 14th with the Chicago Boat Show at McCormick Place in Chicago. We'll be offering our best pricing and selection of the year on the entire range of Highfield inflatables, Tohatsu engines, and every one of our canoe and kayak brands.

Boat Show Prices are available for all orders placed during the month of January, so you don't have to be at the show to get these prices. Just call us at 847.283.0400 or email us here with what you're looking for and we'll get back to you with a quote. Boat delivery in the Great Lakes region available for nominal cost, or pick your boat up at our Lake Bluff, IL store.
2018 Boat Show Pricing
Highfield Inflatable Boats - 11% off list if paid in full during January, with May delivery 
All 2018 Kayak models - 11% off during January (minimum $500 deposit)
All 2018 Canoe models - 7% off during January for spring delivery
Examples
Highfield Classic 310 Inflatable - list $2978 - Boat Show Price - $2649
Wilderness Systems Tsunami 125 kayak - list $1099: Boat Show Price - $978
Wenonah Adirondack T-Formex Canoe - list $1999: Boat Show Price $1859


To download a pdf of our complete sheet of available Highfield Inflatables with 2018 list prices, please follow this link. (for canoes and kayaks, just browse the site here, and figure your discount off the list price).
Sorry, there are no products in this collection